Press Release - May 5, 2019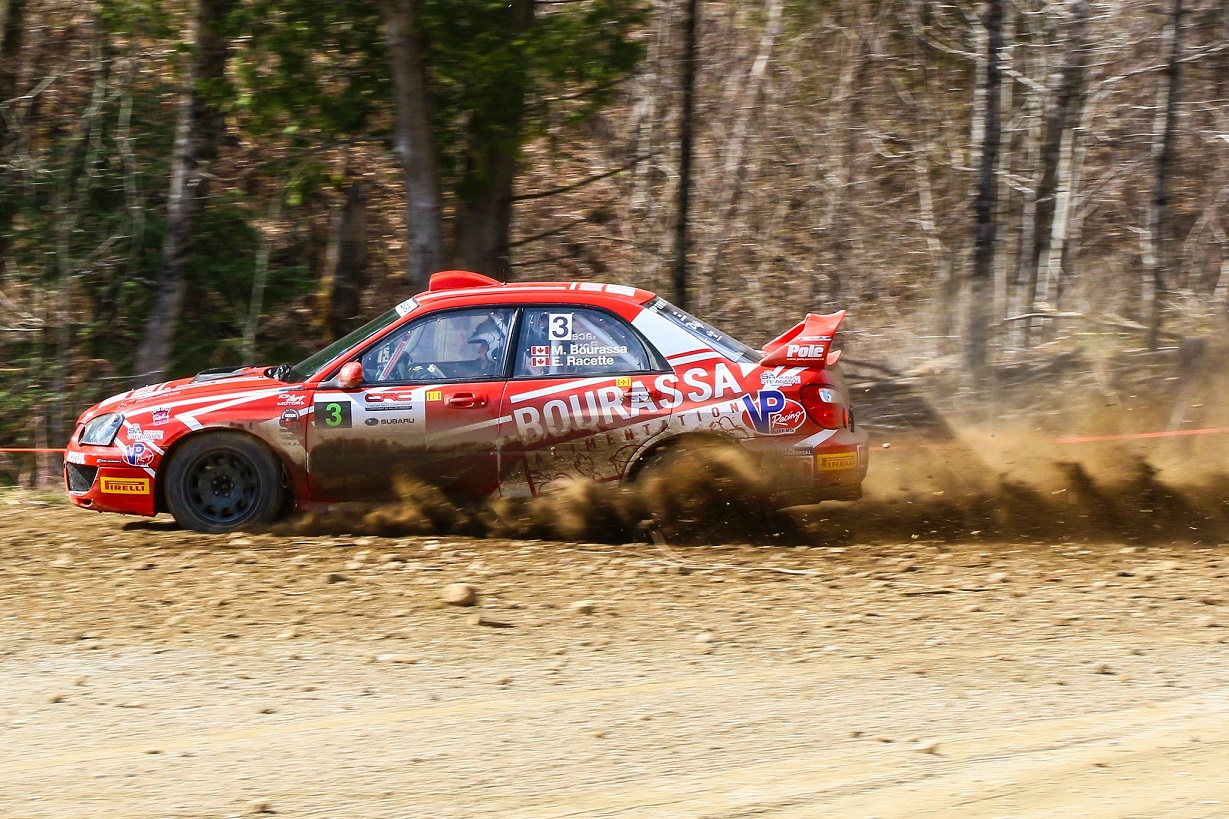 Marc Bourassa and Élise Racette win the Lanark Highlands Forest Rally !
May 5, 2019.- After a three-month break in the season's calendar, the Eastern Canadian Rally Championship (ECRC) returned to action this past weekend, with the Lanark Highlands Forest Rally, the second of eight events in 2019.
This twelfth edition of the Ontario rally brought together twenty-two teams and was held in the McDonalds Corners region, southwest of Ottawa, in the heart of an area with gravel roads perfect for practicing performance rally.
From the start, the battle for victory was between two Quebec teams; Marc Bourassa and Élise Racette (Subaru WRX STI) and the father-son duo of Sylvain and Simon Vincent (also in a Subaru). Retired from rally driving for the past three years, Sylvain Vincent demonstrated that he hasn't lost his touch, winning four of the first six special stages. It was not enough to beat Marc Bourassa, who was on his game as he scrounged second after second from the Vincent team, finally winning with a 12.6 second lead.
For Marc Bourassa, this was his third overall ECRC win after the 2016 Défi and Charlevoix rallies. This was his co-driver Élise Racette, first overall victory in the series.
Sébastien Clark and Yanick Marin made it onto the podium in third place overall. They finished ahead of promising novice driver Alexandre Moreau. Co-driven by the experienced Yvan Joyal, he completed the Top 4 teams, all of whom came from Quebec to compete in this increasingly popular event.
Jonathan Drake and Jeremy Clarke finished in fifth spot after a good battle with Matthew Ballinger and Bruce Leonard, who won the Production 4 wheel drive class. One minute and five seconds separated these two Ontarian teams in the end, with thirty of those seconds coming in the last two stages.
American duo of Margaret Shannon and Alex McCrady, completed the Top 7 teams, all of which were driving Subarus.
In the two-wheel drive class, Canadian drift champion Pat Cyr, co-driven by his brother Dan Cyr, watched things unfold for the first half of the event. Spectacular in his Toyota GT-86, the Ontarian driver had to end his day three stages before the finish because of a broken differential, while in the lead of his class and an impressive fourth place overall.
This abandon benefited fellow Ontarians Zoltan Kovacs and David Bell. With their Mitsubishi Lancer, they finished eighth overall, just ahead of 2017 Black Bear Rally winner Laurens Wit, co-driven by Jonathan Cox (Subaru WRX STI), and Benjamin Hardling/Jodie Shay (Subaru WRX STI).
Kovacs/Bell won their class by more than six minutes ahead of the two-wheel drive second placed team of former Canadian champion Charles Hammer, co-driven by Aaron Crescenti. The Quebec driver and his American co-driver were at the wheel of a revered 1984 Volvo 242 Turbo. Chris Krepski and Philip Barnes (Volkswagen Golf GTI) finished third in class. These two teams finished thirteenth and fourteenth overall, respectively. In total, sixteen of the twenty-two starting teams finished the event.
The Eastern Canadian Rally Championship (ECRC) consists of eight events, spread out between Ontario, Quebec, and the Maritime provinces. The nest round will take place on June 29th and 30th for the Rallye Baie-des-Chaleurs, in the Gaspé region of Québec. This will be the forty-second edition of this always-popular event.
For more information, please visit www.ecrc-crec.ca