Press Release - April 30 - 2023.
Kurtis Duddy and Matthieu Toupin Win the Return of
the Rallye de Sanair!
April 30, 2023.- After five years of absence, the Rallye de Sanair once again found itself on the Quebec motorsport competition calendar. Using multiple roads, neighbouring paths, and tracks at the Sanair complex in St-Pie-de-Bagot (east of Montréal, in Montérégie), the event held its 34th edition this past Saturday. For the very first time in its history, in addition to the being part of the Quebec Championship, it also counted towards the Eastern Canadian Rally Championship (ECRC), replacing the Rallye de Québec which was initially scheduled for this coming June but eventually cancelled altogether.
This 2023 edition held true to the event's reputation, with multiple plot twists and leader changes to go along with the fickle weather. The rally started at noon under sunny skies and warm spring temperatures but ended with the final evening stages taking place in the cold and windy rain.
The Rallye de Sanair is the only event in the ECRC calendar to run on roads that are entirely made of asphalt. Competitors with 2-wheel drive cars not only represent the majority of the entrants (a phenomenon never before seen in this series!), but they also had realistic chances for an overall victory.
This is exactly what happened at the end of the ten stages as Kurtis Duddy and Matthieu Toupin drove their 2-wheel drive Nissan Sentra to a 48-second lead over the 4-wheel drive Mitsubishi Lancer of Réjean Perron and Alexandre Marcoux. En route to his very first overall ECRC victory, Duddy had a spectacular drive, winning no less than 60% of the competitive stages.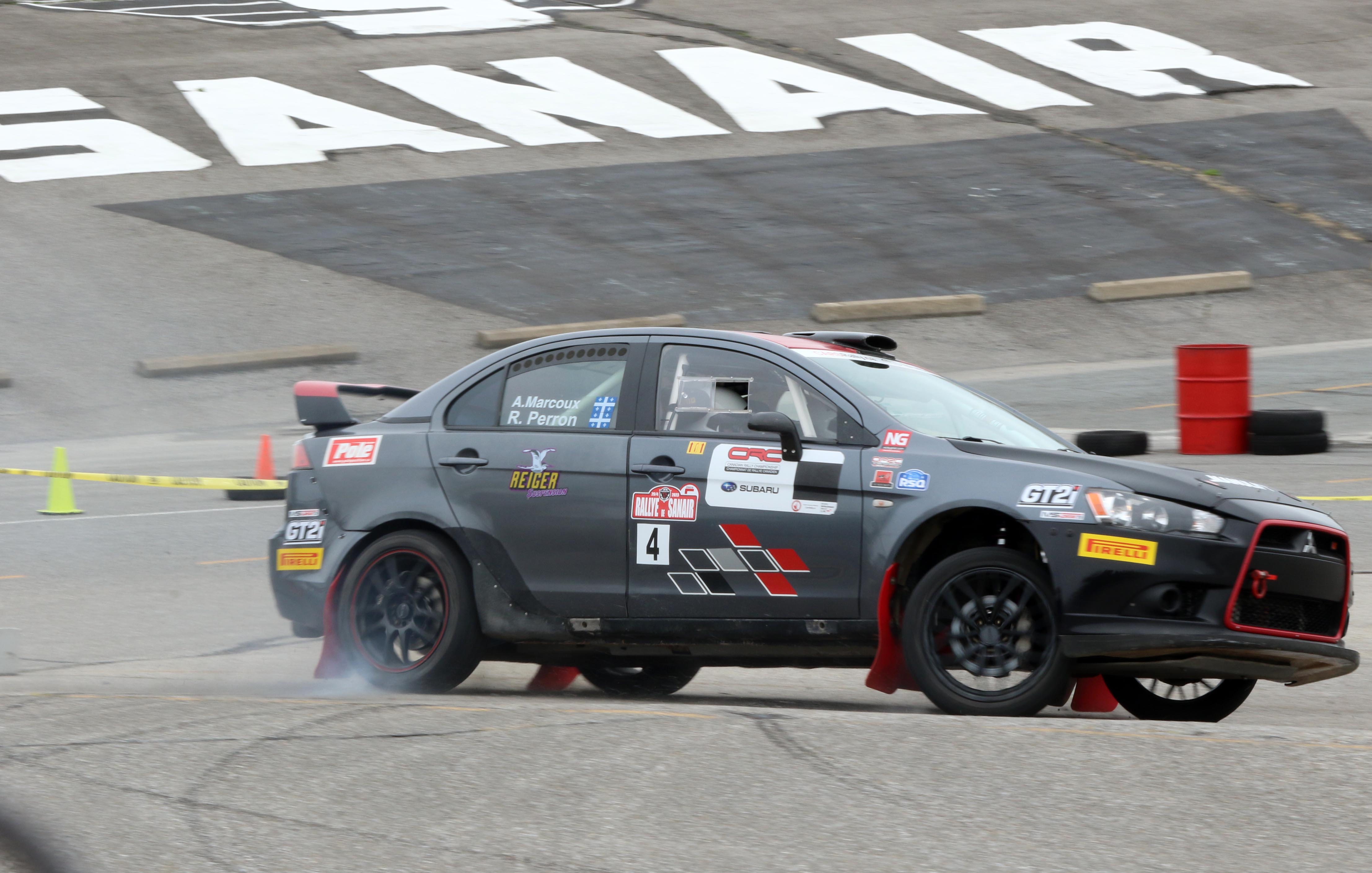 Réjean Perron and Alexandre Marcoux at Rallye de Sanair 2023
Photo © Marie-Lyse Tremblay / poleposition.ca
Before losing more than two minutes, three stages from the finish, Perron/Marcoux drove an excellent and consistent rally and left the Sanair complex with top spot in the 4-wheel drive Class.
The overall podium was rounded out by Francis Belley and Dany Mallette (Ford Fiesta), in their first event of the season. They also claimed second place in the 2-wheel drive Class, ahead of the second and final 4-wheel drive car to finish, the Subaru Impreza of Gabriel Monette and Hughes Bergeron. It was nevertheless this 4WD class that included the big Rallye de Sanair 2023 favourite: Simon Vincent, co-driven by Pat Lévesque in a Subaru.
Very used to road circuits (since 2021, he's been competing in the Canadian Nissan Sentra Cup series) as well as bigger Canadian national rallies, Simon Vincent was attempting to solidify his name for the first time amongst the list of winners at an event that his father Sylvain Vincent, his mother Dominique Cyr, and his uncle François Cyr have won five times between them. After four competitive stages, Vincent/Lévesque were leading by a margin of two minutes and twenty-six seconds ahead of their closest pursuers. But when it seemed like nothing could stand between him and the victory, a problem with the fuel pump ended their rally.
The final Top 5 was completed by Éric Dufour, co-driven by Cezary Maciocha (Volkswagen Golf). This team was also the fastest 2WD Production Class car. Mathieu Royer/Alyssa V. Montminy (Nissan Sentra) and rookies Ronald Grandin/Michel Voyer, in a historic Porsche 944, followed in the overall standings.
Ontarian driver Roderik Jones, co-driven by Leah Brisset in a Mazda 3, took 9th place overall, ahead of Philippe Normandeau/François Darcy (Honda Fit) and Pascal Besse/Nicolas Tousignant (Porsche 911), who were penalized for missing three stages because of leaking motor oil.
11 of the 14 teams that took the start of the Rallye de Sanair also finished the event. 10 of the 12 planned stages took place, with organizational issues forcing the start of the rally to be delayed by close to two hours in the morning.
The Eastern Canadian Rally Championship (ECRC) is comprised of seven events this season, spread between Ontario and Québec. The next event will take place in early July, again in Quebec, as part of the traditional Rallye International de la Baie-des-Chaleurs, in the Gaspésie region.